ii keep it real & dat's a promise;;
Call me a bytch but at least IM honest =]
when ii walk by go ahead and [stare] , keep lookin ...
cuz ii really dun care I have my own lyfe n' style ♥
ii ain't tryin to please Y0U or make you smile ;;
when it comes to [competition]....
you are out im the best 1 to come around =]
shut the fuck up hatinn trickkk ;;
ya ridin on me lyke i got a dick ♥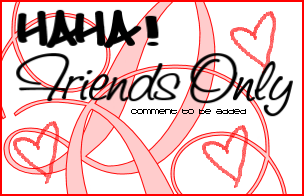 + Add me 1st
+ Comment so I know you added me
+ Leave a pic of yourself in the comment =]
Oh and I do check urserinfos

Simple;; ♥

If you want to spam me with something or promote your community do it here!
NOT ANYWHERE ELSE OR I WILL REPORT YOU!

I just did a total U-Haul on my friends & communities list.
Old communities and inactive friends are now gone.

So Promote to me !

- Rating communities
+ Rule of thumb: No goth/punk/rock alt. communites.kay?

- Any good communities in general

- Any Active friends with enjoyable updates
Yes,I am letting you whore your friends to me.

Time for a bit of change.
No i'm not adding friends to feel "popular",barf.
Now that I'm more active on here I just want to
read interesting active journals.
Here's your chance guys =]


Thank you so much =]

x-posted
Well I'm really thinking of getting photoshop and I was just wondering what version do ya'll have or do you think is the best for image editing and stuff? And how much did you pay for it?
paint shop pro do you know if you could edit pictures to look like this with one of those programs?
(
Click for example pics
Collapse
)
If so what program and how would you do it???
If any of you guys are familiar with photoshop or