Dear
valentine
,
if i had one day with you & you only, i would admire
every line of your face, every strand of your hair,
every graceful movement of your hands or your
eyes or your body, if i had one perfect day.
don't you see, my heart beats only for you?
dear valentine, these are the things i remeber, my
love... a warm hand, your warm breath, your warm
mouth, your arms around mine . i remeber feeling
safe, ceasless, like one person, the two of us,
still, at rest, entwined. i remeber how i felt the
f i r s t t i m e i k i s s e d y o u.
amor vincit omnia .Feb. 14 love conquers all
shes just a girl living in a black and white world
without her guy she just wants to break down and cry
and all she needs is a little love but all she gets is a little shove
she dreams of him every night holding her pillow oh so tight
I've never really had you, of course I've come close.
I've had nights when I thought of you, and I was almost certain you were thinking of me too.
But as time went on, you started to let go. It was then when I grabbed on even tighter,
assuring myself that "we" would happen.
So here I am, so many days wasted on you, so many tears have been cried.
As I look at you, I can't help but think that I'll never have you, since it's been this long already.
i want a guy that will make me happy.
someone that will make me smile when i hear his voice.
someone that will love me unconditionally.
i want someone that will have my friends say to
one another "she's
finally
happy again"
love isn't about
the
words
we say
the
actions
we take
the
things
we do
the
hearts
we break
it's
about
people who
can
look
at each other
and JUST KNOW
That's exactly where I lost it.
See that line. Well I never should have crossed it.
Stop right there. Well I never should have said
that it's the very moment that
I *wish* that I could take back.
i wish that i could tell him
just exactly how i feel
let him know my hidden feelings
and let him know that they are real
but i guess that i'm just scared
to let the truth be known
scared of rejection
scared to let my love be
shown
he was my first
real
love. the
kind
that only happens once in your life.
the
kind
that everyone around you wishes they had. the
kind
that lasts forever...
no
matter how things turn out.
most girls say they want a fairy tale
but you taught me that its not really what I want.
I want someone who will make fun of me,
laugh at my jokes even if they arent funny
& someone that wrestles with me and doesnt
let me win just because Im a girl;
yeah riding off into the sunset on a
white horse would be
nice
but playing
thumb war with you seems much better
Do you know what girls want?
They want
real
conversations &
real
love.
We want cute dates together, nothing expensive;
the truth is we only want to be with you.
We want to hold hands & lie beneath the stars,
we want to be able to say something stupid
& not worry about it, & we want a guy that will
love us for nothing but being us, plain & simple.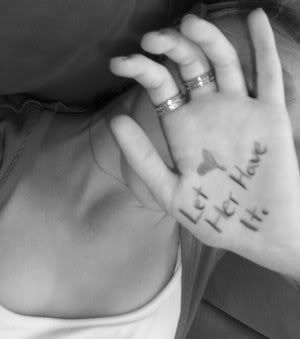 I suck with words. but sometimes, words aren't the thing. love isn't about words.
it's about what you
do
. and what i
did
-- running away, it was stupid.
we both know love is a
big
,
scary
,
evil
concept. but if you feel it,
it's gonna follow you around like a hungry dog. i didn't mean to say that love is a dog..
i just mean, i'm not going anywhere. i love you. if love beats us up, lets just beat it up right back.
we can do this. if you're ready to make the jump, i'll be right there to catch you.

They began to talk a lot more,
and laugh a lot more. They found
themselves falling in love.
LOVE is when you find someone you can really be yourself with.
that you can share
anything
with like a best friend.
it's when you can't even imagine what your life would be like without that other person.
when
words
don't even come close to how your heart really feels.
and even though it doesn't make sense to other people
you know that you're
meant
to be together.
I'm just another silly teenage girl, who keeps her hopes too high and her jeans too low.
who lives by quotes and can't ever seem to say the right thing at the right time.
Just another girl, looking for herself in a big bad world.
Who just wants someone to love her. and then everything would be ok
"at the end of the day,when it comes down to it,all we
really want is to be close to somebody.so this thing
where we all keep our distance and pretend not to care
about each other,it's usually a load of bull.so we pick
and choose who we want to remain close to,and once
we've chosen those people,we tend to stick close by.no
matter how much we hurt them.the people that are
still with you at the end of the day,those are the ones
worth keeping. & sure,sometimes close can be too close.
but sometimes,that invasion of personal space,it can be
exactly what you need "
--Grey's Anatomy"
intimacy
is a four syllable word for,"here's my heart and soul,
please grind them into hamburger,and enjoy"
it's both desired and feared.difficult to live with,
and impossible to live without.intimacy also
comes attached to the three r's..
relatives,romance,
and roomates
.there are some things you can't escape.
& other things you just don't want to know
--Grey's Anatomy--
YOU HAVE TO TAKE THE GOOD WITH THE BAD
SMILE WITH THE SAD
; LOVE WHAT YOU GOT
REMEMBER WHAT YOU HAD
. ALWAYS FORGIVE
BUT NEVER FORGET
. LEARN FROM MISTAKES
& NEVER REGRET
. CAUSE PEOPLE CHANGE
THINGS GO WRONG
; BUT JUST REMEMBER
LIFE GOES ON
IN MY LIFETIME
I'VE COME TO
REALIZE
THAT YOU CAN'T DEPEND UPON OTHER PEOPLE
FOR WHAT YOU WANT. & YOU CAN'T BE SCARED TO GO OUT THERE &GET IT.
YOU HAVE TO DREAM HARD, WISH BIG & CHASE AFTER YOUR GOALS
CAUSE NO ONE ELSE IS GOING TO DO IT FOR YOU.
& EVEN IF THINGS DON'T WORK OUT,
YOU'LL ALWAYS BE ABLE TO SAY YOU TRIED
iN A WORLD OF COMPARiSON & CONFORMiTY
MAKE
YOUR OWN STATEMENT.
HONOR
YOUR OWN TRUTH.
HAVE
THE COURAGE TO BE YOURSELF;
DON'T
RISK SPEAKING YOUR OWN THOUGHTS &CLAIMING YOUR EMOTIONS.
SHARE
YOUR VULNERABILITIES, TEARS DOUBTS & INSECURITIES;
LET
OTHERS
EXPERIENCE
THE REAL YOU.
LAYiNG BESiDE Y0U, L0ST iN THE FEELiNG S0 GLAD YOU 0PENED UP MY D00R.
C0ME WiTH ME S0MEWHERE iN THE NiGHT,
WE WILL KN0W EVERYTHiNG L0VERS CAN KN0W
Y 0 U ' R E
M Y
S 0 N G
LiFE iS T00 SH0RT T0 WAKE UP iN THE M0RNiNG WiTH
REGRETS, S0 L0VE THE PEOPLE WH0 TREAT Y0U RiGHT
F0RGET AB0UT THE 0NES WH0 D0N'T & BELiEVE THAT
EVERYTHiNG HAPPENS F0R A REAS0N. iF Y0U GET A CHANGE
TAKE iT. iF iT CHANGES Y0UR LiFE, THEN LET iT. N0B0DY
SAiD iT'D BE EASY, THEY JUST PR0MiSED THAT iT'D BE
WORTH IT
ST0P
PLANNiNG Y0UR LiFE & LET iT PLAN iTSELF,
QUiT TRYiNG T0 FiND THE PERFECT B0Y & LET HiM FiND Y0U.
iF Y0U D0N'T WANT DRAMA THEN D0N'T TALK SHiT.
THiNGS ARE ONLY AS COMPLiCATED AS YOU MAKE THEM
Comment if you like and want more